Wed, March 12, 2014 , 6:45 PM
Tosca Marquee
Bronx, NY Register »
Wed, March 26, 2014 , 6:45 PM
the Excelsior Grand
Staten Island, ny Register »
Wed, April 02, 2014 , 6:45 PM
The Forge
Woodbridge, NJ Register »
All Shows
We are now offering a Honeymoon Giveaway at Every Event!!,
Your registration enters you in a Honeymoon Giveaway! Read More»
Must Read Tips for Attending a Show,
What our shows can do for Brides: If you are getting married, the value of attending a bridal show is to visit with lots of wedding professionals face to face in one... Read More»
All News
Exhibitor Info
Do your competitors hope you don't read this?
Because it can give you an unbeatable edge over them. with the leads you'll get from "our bridal fashion shows". These leads are going to open up new doors for you…make you thousands of extra dollars…and leave your competitors far behind!

Page after page of valuable new leads……. A treasure chest of new business for you! We will bring the wedding market direct to you!Our bridal fashion shows create more customers than any other form of advertising. Our bridal shows will introduce you to new brides every week.

LEADS! LEADS! and more LEADS! with all the information you need to get in on the ground floor!

If you are interested in becoming a part of any of our bridal shows CONTACT US TODAY!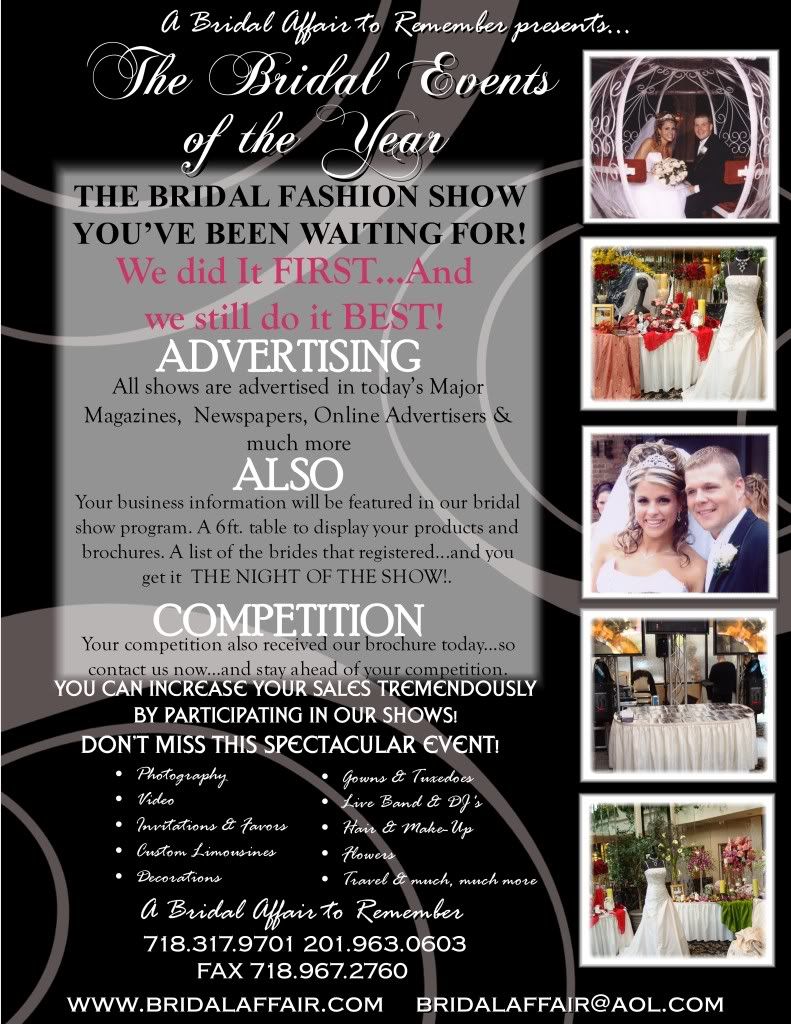 Press

Daily News - New York, NY


A Bonanza for Brides

Okay, you're engaged. After the excitement of showing off that sparkler and fantasizing about the big night, now comes the reality: How am I going to pull this off? Fortunately, there is a way to put the whole event together easily, without quitting your job or hiring a high-priced wedding consultant, and still have fun doing it.

A bridal Affair to Remember, the brain child of owner Cookie Parisi, is a traveling bridal fashion show and much more. For 21 years, Parisi has helped brides and grooms line up everything they need for their big day. Here's how it works: You call and reserve tickets (free, of course) for an upcoming show. The night of the show, you get to see an elegant display of designer bridal gowns and tuxedoes, then visit with the suppliers of photography, invitations, flowers, bands - everything you need for your wedding. There's even representatives from Macy's, and Bed Bath & Beyond, so you can set up your bridal registry, too.

"We get brides who select everything in one night," says Parisi. "Grooms love it, because they don't have to drive from one place to another." There are several different vendors for each specialty - three or four photographers set up tables, there are deejays, bands, makeup artists, and about 15-16 limousines

parked outside, so you can try out your luxury vehicle of choice. "We even have horse and carriages for brides who want something a little different," says Parisi, who organizes 58 shows a year.

Lots of brides attend several shows, first with their fiancée, then again with mom or a maid of honor. Entire bridal parties show up en masse to choose gowns with the bride. Shows are held in Brooklyn, Staten Island, the Bronx, Westchester, Queens, Long Island, and New Jersey.

Besides saving time and making shopping fun, smart brides can also save money. "The companies and vendors offer big discounts the night of the show, so you can get the best price," says Parisi. There's also free bridal magazines and tons of prizes given away-you could win a cake cutter, a designer headpiece, tuxedo rentals, even a honeymoon!

A Bridal Affair To Remember is hosting shows in all 5 boroughs and also in New Jersey. Tickets are free but reservations are necessary.